Make an ordinary stay into a real, fulfilling experience!
Either you are here for the weekend or for a whole month, Turin is a place to be discovered and enjoyed. It can be fascinating in so many ways (history, art, culture, technology, nature, etc.) that you will wish to come back for more.
Our goal, at Residence Sacchi, is to provide you with everything you need to enjoy all that Turin has to offer. We will make available to you all there is to know to fully experience Turin's city life both by day and by night. Back to the Residence we will try our best to satisfy the widest range of request (from the morning newspaper to a late room service supper).
Our apartments have been designed to meet even the more demanding needs in order to offer you not simply a hotel room, but a home away from home.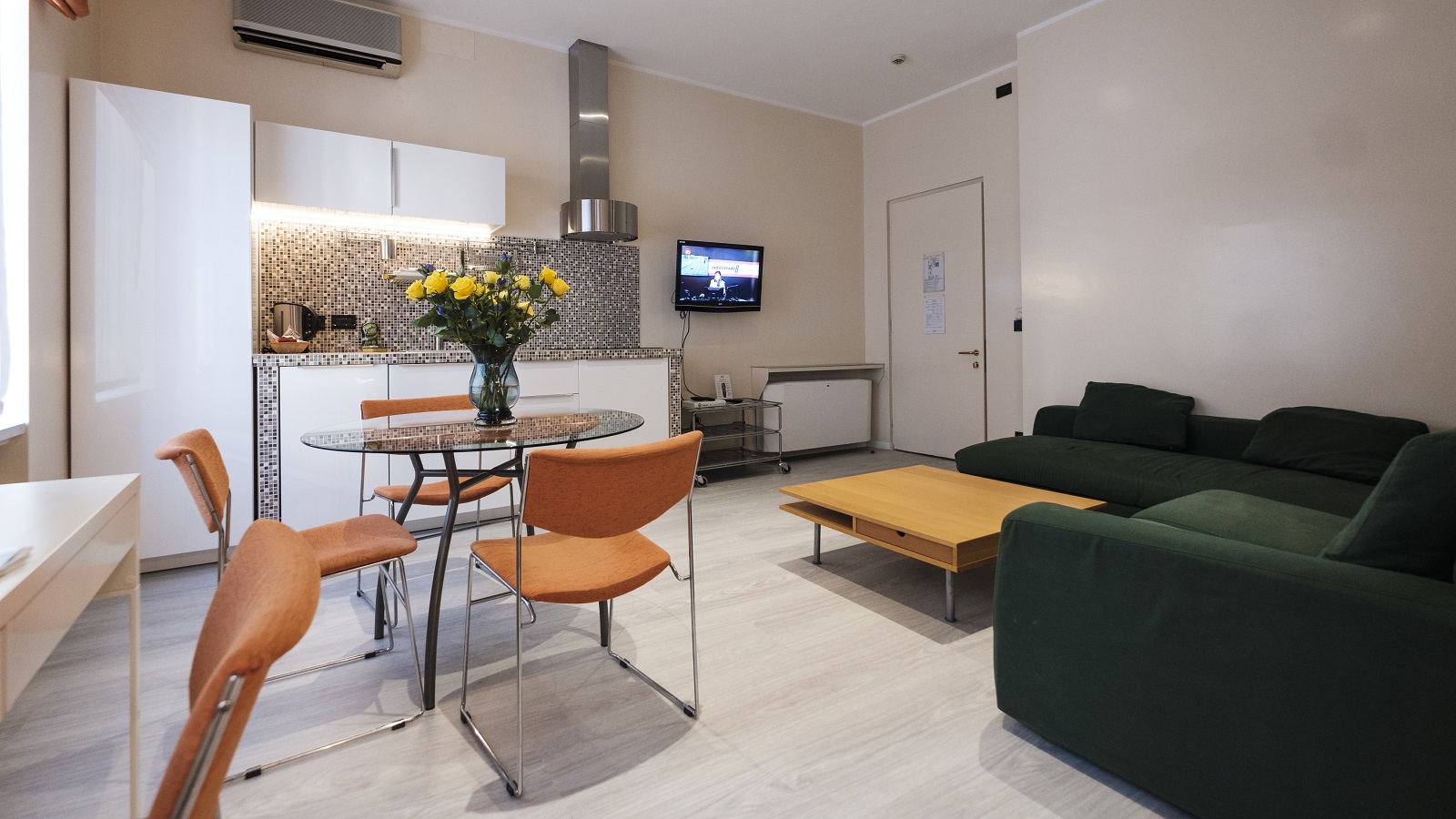 If you are here for work (business or art industry), then this is the right place for you.
The apartments are suited for organizing work groups as well as for inviting family over for short stays. Besides being equipped with internet and fax services, our apartments are also soundproof in order to ensure a peaceful and discreet work environment suitable for handling private business calls.
And if you are too busy to go out for lunch or dinner you can always order food in your room or use the fully equipped kitchens and kitchenettes to cook for yourself.
Moreover, our front desk is open 24/7 in order to suit the working schedule of any of our guests.
Families are welcome too.
Our apartments are ideal for families who are on a budget but don't want to give up the privacy and comfort of a home. The bedrooms, living rooms, kitchenettes, bathrooms, etc. have been designed to offer you not only a place to stay, but a home to live. And since kids can be restless and noisy, our apartments are also soundproof in order to give you privacy and to make sure that nobody will come knocking on your door to tell you to keep it down.
Residence Sacchi meets the needs of every family with children of all ages as its central location and close proximity to public transport services (including the underground) ensure fast access to Turin's most significant areas.
Also, bring your dog with you if you have one. Dogs are always welcome here! Our only goal is to make you feel at home and to make sure that you will want to come back again!
If you are here to help and give support to your loved ones, then Residence Sacchi is the right choice.
Turin's hospital and healthcare facilities offer only the best in terms of medical care and treatment. If you happen to be here to stay close to someone recovering in one of Turin's hospitals then Residence Sacchi is the right place to stay away from home as it conveys comfortable, relaxed, homely living conditions that are best suited for difficult situations of this kind.
Moreover, Residence Sacchi is strategically located as to enable fast access to Turin's most important hospitals and healthcare centres while ensuring comfort and privacy at all times.